Maple Leafs wise to proceed cautiously with Woll, Minten back to junior, and optimism: Leaflets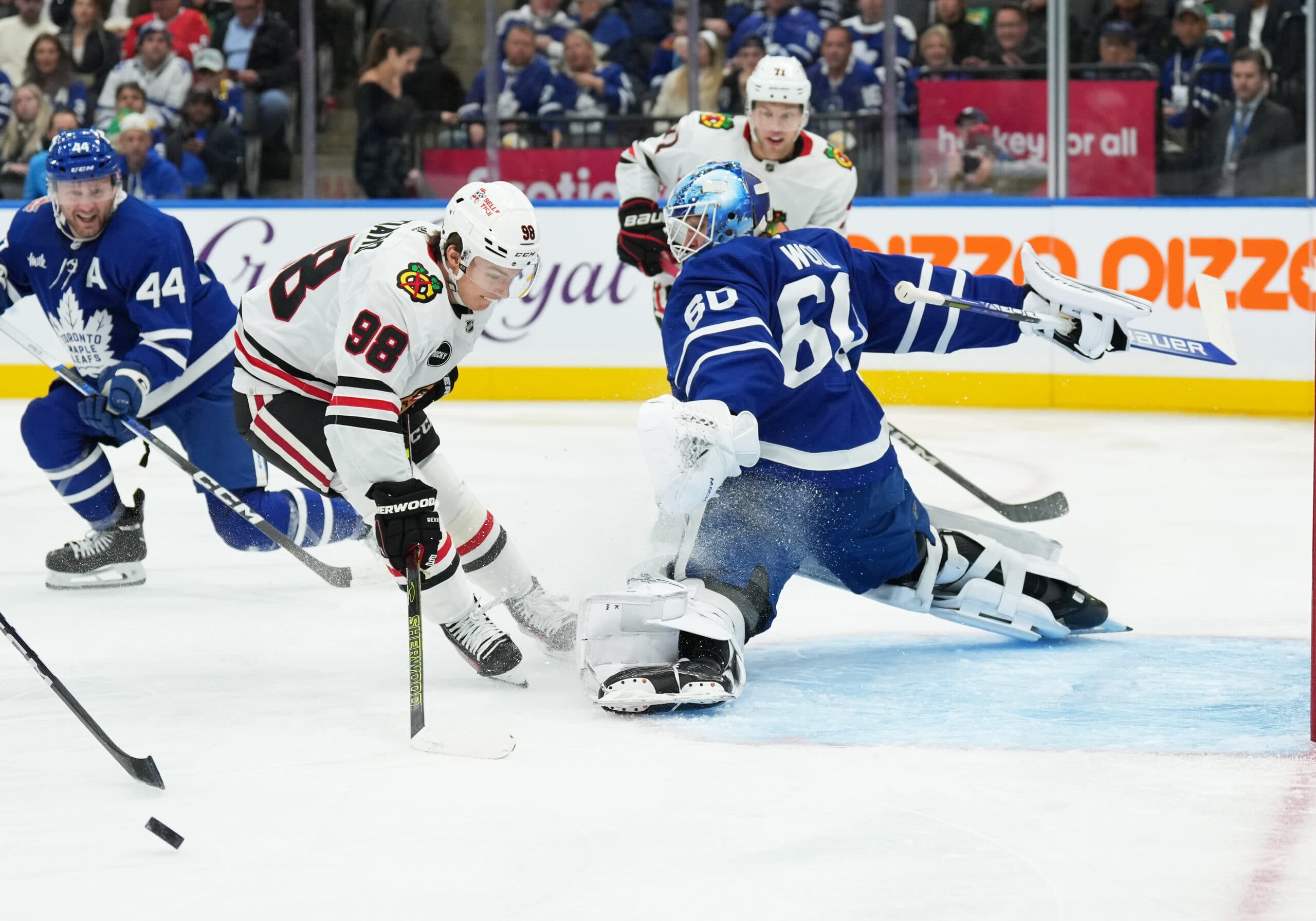 Photo credit:Nick Turchiaro-USA TODAY Sports
October is coming to a close and after a lot of "prepare for a slow start" talk the last couple of games certainly shift the narrative towards the Leafs still being one of the top teams in the league, even if there is still some room for improvement.
A hot goaltender, a top prospect, and a successful road trip certainly give us a fair bit to talk about, so let's dive in.
Enjoying but not pressuring Joseph Woll
I'm not sure Max Domi did Joseph Woll any favours by tossing out a Carey Price comparison this week. It was certainly meant as high praise and was focused around the poise and comfort the young goaltender has in the net not that he's a lock to embark on a Hall of Fame career, but Woll needs the opportunity to just be to some extent.
Woll's numbers this season as well as his career numbers lend themselves to a lot of excitement. He's not letting in high danger chances at all (that will eventually change), he has a save percentage north of 96% this year and a career save percentage over 93%. He had a shutout streak that went over 100 minutes, even if he hasn't been credited with a shutout this season, and has made some huge stops in key moments and having a goaltender who can steal games is in many ways the missing piece for the Leafs.
Yes, I too am very excited about Joseph Woll, but always come back to one key number: 37.
37 is the most games Joseph Woll has played in any given season/playoff combination dating back to when he started playing college hockey. That is seven seasons of playing less than what would be half an NHL season and we know that from the past three seasons that injuries are a big part of it. There is going to be a need to manage his workload and ensure that even if Woll does have the net for the majority of the time, the Leafs are still getting Samsonov in the net on a regular basis to make sure that Woll isn't overworked to point that his body can't take it and that Ilya Samsonov is still getting enough work that he prepared to run with the net as well.
As much as people will want to paint Woll becoming the better option as a goaltender controversy, this is more a case of the Leafs having something go their way in net and should be trying to find a way that they will still be able to have things go their way come playoff time.
Minten back to juniors not surprising, but still disappointing
After being scratched for three games the writing was pretty clearly on the wall that at some point Fraser Minten would be returned to junior. It's hard not to see giving Minten a chance to play and to try to earn a spot on the Canadian World Junior Team as the right decision, but I figure I'll question it a little anyway.
Minten still had five games worth of NHL opportunity left that the Leafs could have burned through before his contract would take effect, it seems like giving Minten a couple more kicks at the can instead of putting Pontus Holmberg or Ryan Reaves in wouldn't have been the end of the world, and even if the ice time wasn't great or with linemates that would make the rookie better, it would have been a bit more of an opportunity to explore if he could be a breakout talent for the Leafs this year instead of next.
The Jake McCabe injury forced the situation a bit as Toronto needed to recall a defenceman and sending Minten back became the easy option, even if a Holmberg trip to the Marlies would have had the same effect and created a short term opportunity for Minten. The Leafs didn't see it that way and honestly you can't fault them for wanting to go with stability in the lineup and keeping the Gregor-Holmberg-Reaves line intact.
When you figure that coming into camp none of us really expected to be considering Fraser Minten for a roster spot, this still feels like a positive experience, and with Easton Cowan looking solid as well it is entirely possible that the Leafs prospect pool isn't as shallow as advertised.
So much for the slow start
The Leafs had a pretty significant amount of change, essentially half their lineup is new or very new-ish. There are new assistant coaches, and a new GM setting their somewhat new direction. Given all of this it felt like preaching patience when it came to the Leafs might be best. It probably was but wasn't necessary.
The Leafs will end October with a winning record regardless of how their last couple of games go. Bertuzzi has a couple of goals in 7 games, Domi is over .5ppg, Klingberg for all his defensive faults is picking up some assists, and Reaves is punching faces. The newbies haven't always been at their best but over a small seven game sample they've shown they can do what they have been brought in for and as hard as it can be at times to be optimistic about the Leafs, there is at least now some evidence that the team hasn't taken a step back.
Couple all of that with the areas where improvement seems like it is a given and yeah, I think it's okay to have some optimism one month in on the Leafs.