Marner extends point streak to 20 games, Murray stymies Stars: Muzzy's Muzings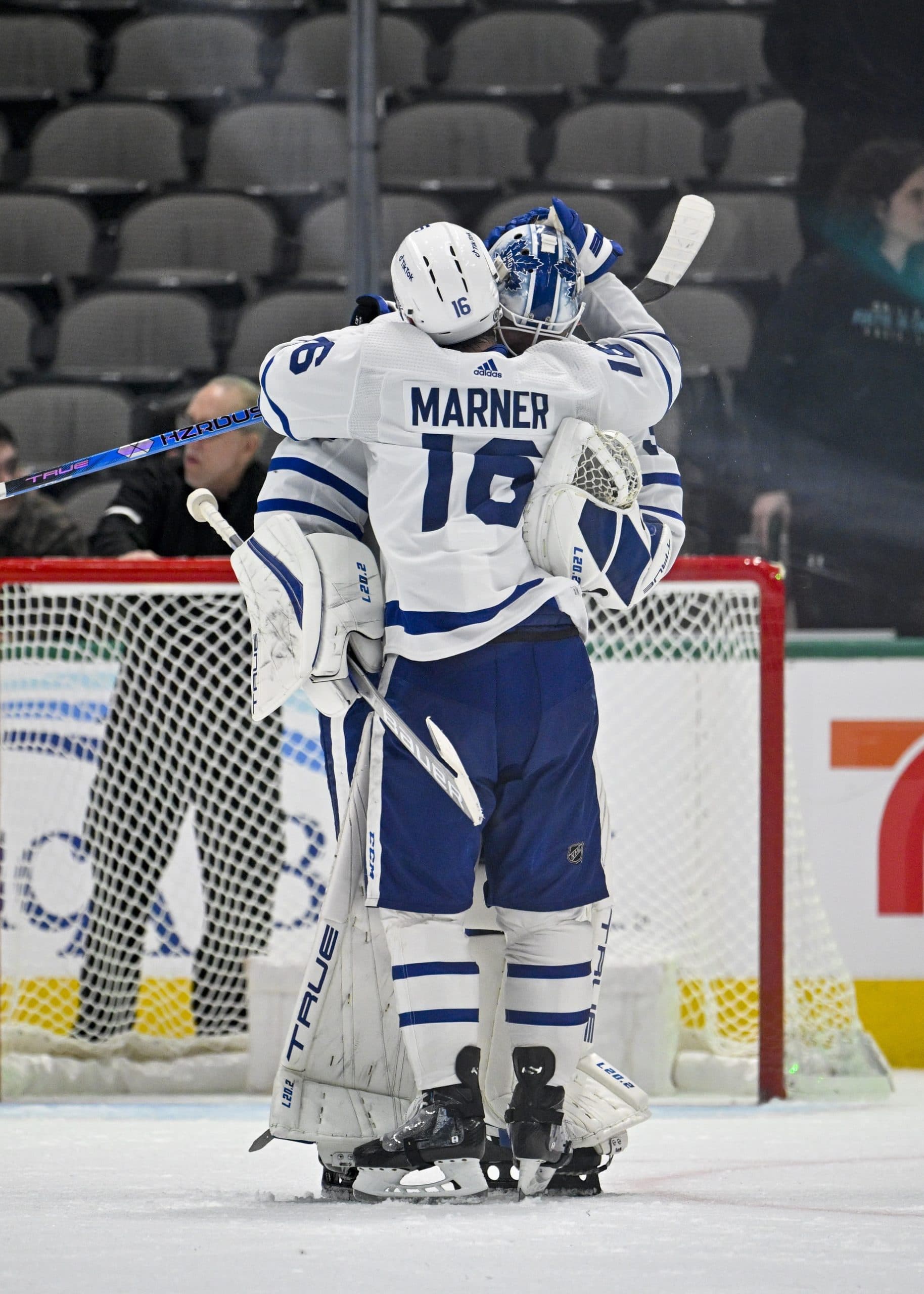 Photo credit:Jerome Miron-USA TODAY Sports
No offence to Mitch Marner and Jason Robertson, but Matt Murray stole the spotlight on Tuesday night.
The 28-year-old made 44 stops for his 15th career shutout and his first as a Maple Leaf as Toronto blanked Dallas 4-0.
With the victory, the Leafs improved to 16-5-6 on the season and extended their point streak to a whopping 12 games (9-0-3). Unbelievably, they still haven't lost in regulation since November 11th. Also, Toronto is 7-0-1 on the road since the beginning of November.
With his first period assist on John Tavares' 13th of the season, Mitch Marner extended his point streak to 20 games. Unfortunately, thanks to Murray's dominance, Jason Robertson's epic streak was snapped at 18 games. Still incredible.
Auston Matthews (13), Rasmus Sandin (2) and Alex Kerfoot (2) had the other goals for Toronto.
Meantime, the Leafs went 0-for-2 on the power play, they're now two for the past 22 with the man advantage. Not to be outdone, Dallas went 0-for-7 on the PP. Toronto's penalty killers were awesome.
The Leafs took both meetings against the Stars this season.
Muzzy's Muzings:
 MARVELLOUS MURRAY
Do Kyle Dubas and company look like absolute geniuses right now, or what? They must be grinning ear to ear. By far, that was Murray's best outing as a Maple Leaf, which I thought was a big response after surrendering a stinky OT winner against Tampa on Saturday night. He looks so confident right now, it reminds me a lot of the Matt Murray we saw early on in his career with the Pittsburgh Penguins. Of course, injuries will always be a concern, but he's looked tremendous since coming off the IR. I'm just sitting back and enjoying it.
 MITCH MARNER EXTENDS POINT STREAK TO 20 GAMES
That's what you love to see, get it out of the way early. Just 4:51 into the game, Marner picked up an assist on John Tavares' 13th of the season to extend his incredible point streak to 20 games. Slowly but surely, he's creeping up the all-time NHL point streak list. Also, is it just me or is Marner getting stronger with each and every passing game? Impressive stuff; he's been dominant.
PROPS TO THE PK
Toronto's penalty killers deserve a free pass on King Street West for life after that display. For the second straight game, it was a parade to the penalty box for the Leafs, but lucky for them, the PK was up to the task once again. In the second period alone, Toronto killed off a double minor to Pierre Engvall as well as an extended 5-on-3. Not for a lack of trying, the Stars went 0-for-7 on the power. And yes, Matt Murray was another big reason why. Also, I wanted to give a shoutout to Rasmus Sandin and Timothy Liljegren as well, they were fantastic.
ANOTHER D INJURY
After taking a routine hit along the boards in the offensive zone, Victor Mete left the game in the first period and did not return. In my wildest dreams, I could have never predicted Toronto's blue line depth being tested as much as it has this season. If Mete is forced to miss time, it means more of Mac Hallowell, and considering the way he's played, that's not a bad thing. Sadly, there's not much they can do in this situation but lick their wounds and move on. Additionally, it sounds like T.J. Brodie is on the mend, which means we could see him back in the lineup sooner rather than later. Great timing.
Highlight of the Night:
 WHAT'S NEXT?
The Leafs (16-5-6) return home on Thursday night to host the Los Angeles Kings (14-10-4). Back on October 29th, Toronto fell 4-2 in Tinsel Town in the opener of their two-game season series with the Kings.