Matt Murray gets the call as Toronto looks to sweep away the Buffalo Sabres: Leafs Tailgate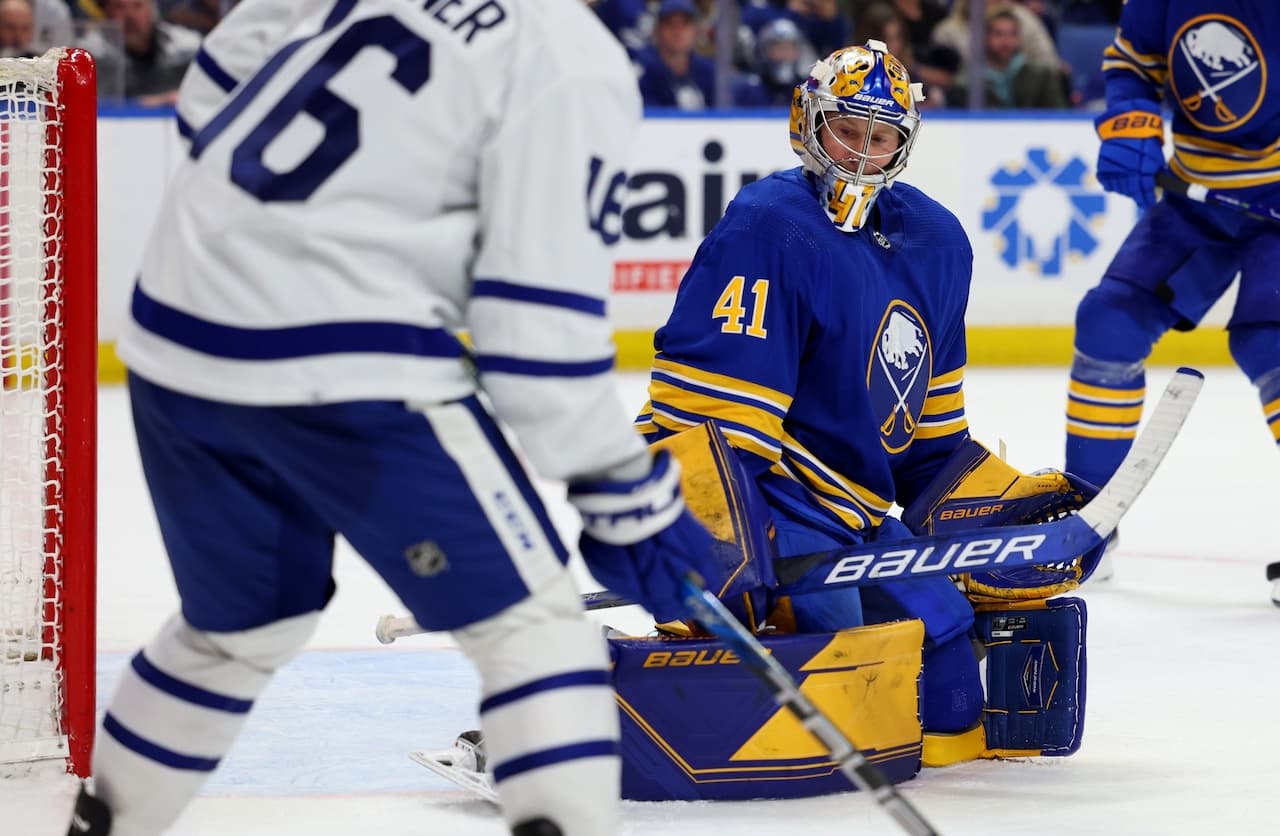 Photo credit:Timothy T. Ludwig-USA TODAY Sports
Following a wild 7-4 victory against Edmonton on Saturday night to kick off their four-game homestand, the Leafs (40-17-8) will host the Buffalo Sabres (32-28-5) tonight at Scotiabank Arena.
And with that, Toronto will look for a rare three-game season sweep of its QEW rivals. The Leafs won 5-2 on November 19th on home ice, and in their lone visit to Buffalo on February 21st, they walked away with an impressive 6-3 victory. If you recall, that was the Ryan O'Reilly hat-trick night. What I'm saying is TAKE THE OVER.
In terms of the standings, this one's obviously much bigger for Buffalo. Don Granato's squad has dropped four in a row and six of seven and are currently seven points out of a playoff spot with 17 games remaining. Suffice it is to say, they're running out of racetrack quickly here.
You hate to see it. But you don't.
TIME: 7:30 PM ET (Sportsnet)
STARTING GOALIES:
BUF Craig Anderson – CONFIRMED (9-9-2, 2.78, 0.918, 1 SO)
@
TOR Matt Murray – CONFIRMED (12-6-2, 2.86, 0.905, 1 SO)
PROJECTED LINEUPS:
THREE STORYLINES:
CAN THE LEAFS LOCK IN DEFENSIVELY?
It's been tantalizing to watch, but I'm not sure how big a fan Sheldon Keefe is of these run and gun type games. Simply put, if this team's going to have any success come playoff time, they'll have to find that healthy defensive medium once again. Unfortunately, Buffalo's another one of those teams that doesn't mind getting into a track meet. They can score with the best of them, but without question, they have some serious problems defensively. That said, I wonder if they'll attempt to clog things up tonight in an attempt to muck out a victory. As mentioned, they've been sliding big-time lately, which has coincided almost directly with the loss of Alex Tuch. Buffalo always seems to play Toronto tough, so we'll see.
START ON TIME
After snoozing their way through the first period on Saturday night, the Leafs finally found their way in the second, something that's been a theme all season long for them. Again, consistency is the name of the game. Come playoff time, the margin for error is razor thin, especially against teams like Tampa. It goes without saying but starting on time will be so important in that series. The last thing you want to do is let Andrei Vasilevskiy and company settle in. Long story short, I'd love to see a better start from the boys tonight.
11/7
Once again, it appears the Leafs will go with 11/7 tonight as they continue to assess and look at some different configurations. With that in mind, they have nine blue liners on their roster —it's pretty crazy. But where's Conor Timmins? That's my question. At any rate, I'm looking forward to see how this all plays out roster-wise. Personally, I think people are making way too much out of Sheldon Keefe's tinkering. Now's the time for experimentation!
BETTING:
(As of Noon EDT)
PROP PLAY:
Over 6.5