Matthews, Samsonov lead Leafs to impressive victory over Western Conference leading Jets: Muzzy's Muzings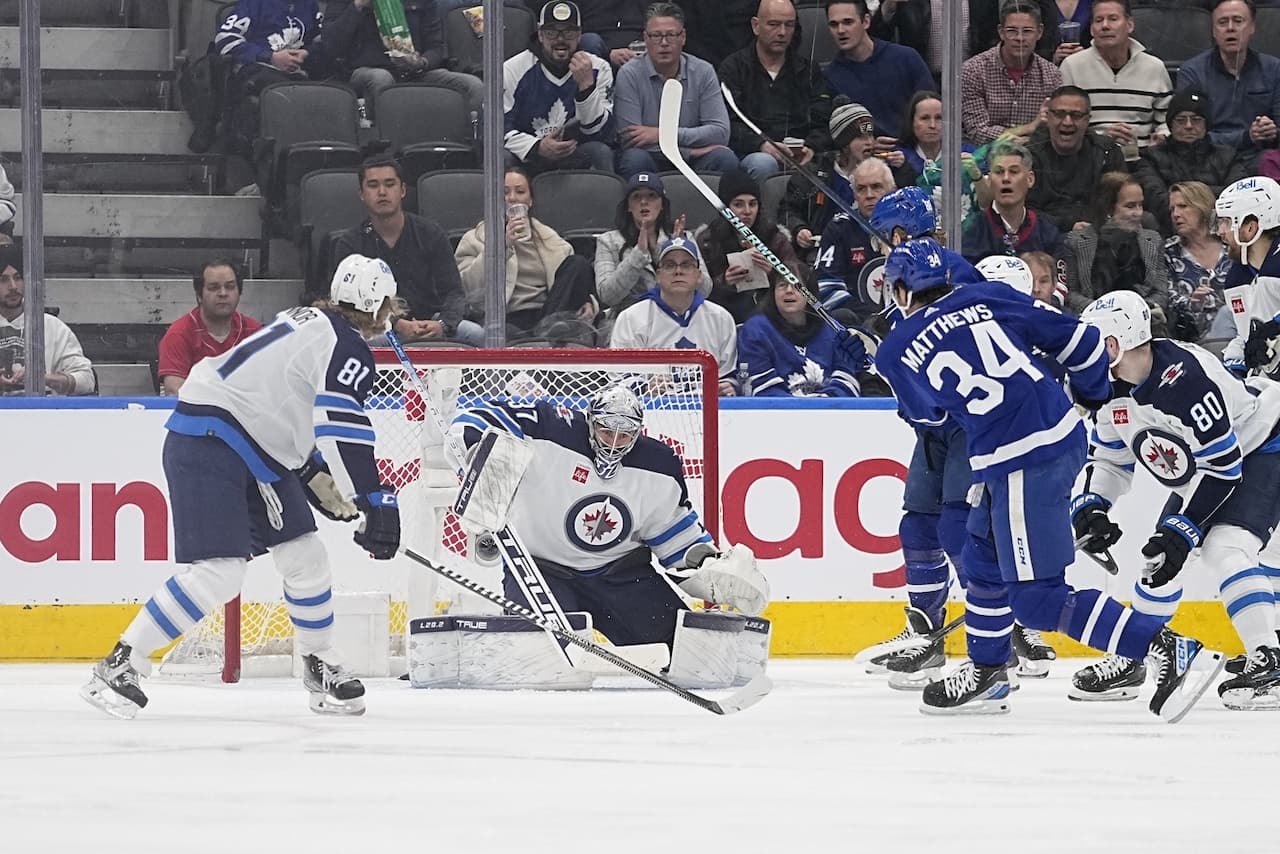 Photo credit:John E. Sokolowski-USA TODAY Sports
Auston Matthews potted two goals and Ilya Samsonov made 37 stops to improve to 12-0-1 on home ice as Toronto smothered Winnipeg 4-1.
And so, the Leafs (28-11-7) completed the two-game mini sweep of the Jets (29-16-1) this season outscoring their former North Division foes 8-2.
With his beautiful second period shorthanded tally, Mitch Marner extended his home point streak to 20 games. Meantime, Michael Bunting notched two assists while Mark Giordano sealed the victory with an empty netter.
As for Matthews, he's now up to 24 goals on the season —including five in his past four outings. Furthermore, that was his first two-goal performance since November 5th against Boston.
Winnipeg went 1-for-4 on the power, Toronto went 0-for-1.
MUZZY'S MUZINGS:
 SECOND PERIOD STUDS
With three more goals on Thursday night, the Leafs are now a ridiculous plus-26 in the second period this season. That's a phenomenal stat. After Winnipeg controlled much of the play in the first, Toronto wasted no time in the middle frame as Auston Matthews kicked off the scoring eight seconds in before doubling up less than four minutes later. From a betting standpoint, it goes without saying, but it would be wise to hammer the Leafs in the second period moving forward. They know what they're doing.
HOT SAMMY
It's time to give Ilya Samsonov an extended run. Not only has he been outplaying Matt Murray lately, but on top of that, the dude's lights out on home ice (12-0-1). With that in mind, five of Toronto's next six games will take place at Scotiabank Arena, so there's all the reasoning you need to give if you're Sheldon Keefe. And I'm not writing off Murray or anything, I just think he could benefit from some practice time to get his game in order again. There's nothing wrong with a healthy competition in between the pipes.
PAPI'S HEATING UP
Call it load management, call it whatever you want, all I know is that Auston Matthews has looked like a completely different player since taking two games off last week. The reigning Hart Trophy winner has now scored in four straight outings (five goals) and is currently riding a personal eight-game point streak (seven goals, four assists). Since returning on Saturday in Boston, he's looked refreshed and recharged. Finally, he's starting to look like the Auston Matthews that scored 60 times in 73 games last season. The rest of the NHL is officially on notice.
MARNER EXTENDS HOME POINT STREAK
My word, was that shorthanded snipe in the second period a thing of beauty, or what? So, if you're keeping score at home, as if the 23-game point streak earlier this season wasn't enough, Marner's now notched at least a point in 20 straight home games (eight goals, 21 assists, 30 points). Even in games like tonight where he probably wasn't at his best, he still found a way to make a difference. And that type of stuff will go a long way in the Stanley Cup Playoffs. I'm merely just sitting back and enjoying this record-breaking season he's putting together; it's been a lot of fun to watch.
HIGHLIGHT OF THE NIGHT:
WHAT'S NEXT?
The Leafs will be back in action on Saturday night when they visit the Montreal Canadiens for the second of four this season. Back on October 12th to kick off the year, the Canadiens squeaked out a 4-3 victory.