McDavid Dancing, Leafs In the Dark: Muzzy's Muzings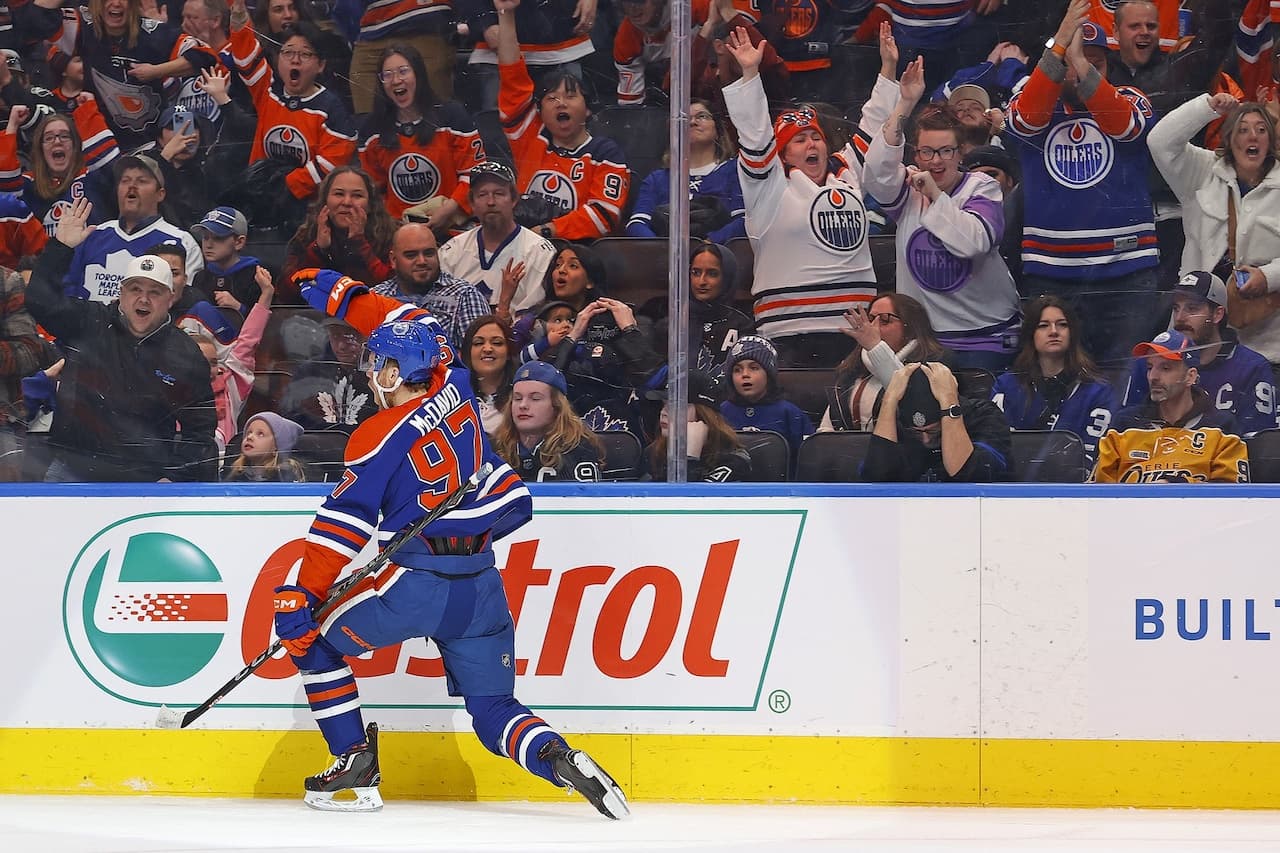 Photo credit:Perry Nelson-USA TODAY Sports
Here's hoping that Bruce Springsteen concert some of the Leaf players attended in Seattle the other night was a good one.
Suffice it is to say, it was one of those nights for the Toronto Maple Leafs.
Connor McDavid tallied two goals and an assist while Zach Hyman had one and one as Edmonton ended Toronto's modest three game win streak with a 5-2 victory. If you can believe it, that was Toronto's first regulation loss against Edmonton in their last 10 meetings. Crazy!
Ilya Samsonov made 27 stops as the Leafs fell to 37-16-8 on the season.
By the way, McDavid, who tallied his 17th three-point game of the season, became just the fifth player in NHL history to record five straight multi-goal games. Yeah, that's pretty good. No words.
Meantime, Mitch Marner stayed red-hot with a goal and an assist. Auston Matthews had one helper. David Kampf scored the other goal for Toronto, who fell to 1-1-0 on their five-game road trip.
The Oilers will visit Scotiabank Arena on March 11th.
MUZZY'S MUZINGS:
FIRST PERIOD LESSONS
No. 1: Connor McDavid is good at hockey. And no. 2: Keep playing until the whistle, kids. As per usual, McDavid did what he wanted when he wanted notching two goals and an assist in the opening 20. Seriously, imagine trying to game plan against that guy? Just take the worst night terror you've ever had and multiple it by 100. Also, to no one's surprise, Zach Hyman did his thing with one and one, too. All things being equal however, I didn't think Toronto was particularly bad in the first, I just thought the Oilers executed. There's no question they lost their way the rest of the night, that's for sure. On top of that, Ilya Samsonov was flopping around a bit, too, but whatever. Additionally, that was a strange first goal for Toronto. Kudos to Mitch Marner for stripping Ceci and feeding Kampf for the snipe. If anything, it was a learning lesson for everyone watching —namely all the kids with aspirations of making it big one day.
ONE OF THOSE NIGHTS
I tell you what, that Boss concert in Seattle the other night must've been pretty, pretty good. Jokes aside, it's one of 82. It's hilarious, I could already feel the wrath of social media boiling over at the first intermission. Relax, people. And that's why they say the Big Smoke is a market like no other. It's the hockey mecca for a reason, right? Make no mistake about it, all around, it was an ugly night for the Maple Leafs. From the crease out, it just wasn't good enough. Thankfully, that game didn't mean very much. The good thing is that Toronto will be right back in action on Thursday night in Calgary. No time to dwell on that stink fest. Turn the page quickly. Peace out.
MCDAVID vs. MATTHEWS
After Toronto took both meetings with Edmonton in 2021-22, the Oilers drew first blood in this year's two-game season series in convincing fashion. Unsurprisingly, Connor McDavid was fantastic. Meantime, it was another quiet night for Auston Matthews, who's had many of those lately. Personally, I'm not worried. I like to think he's pacing himself for the Stanley Cup Playoffs. Afterall, Toronto's known their playoff opponent for months now. At this point, all they're playing for is home ice in the opening round. Luckily, the Oilers will visit Scotiabank Arena on March 11th, so Matthews and company will get the chance to return the favour.
MCCABE & LAFFERTY DEBUT
As expected, Jake McCabe and Sam Lafferty, who were acquired from Chicago on Monday afternoon, both made their Leafs debuts in this one. Again, it's impossible to make a full-fledged assessment after one meaningless game. I did like McCabe's bite on the back end. Additionally, I thought the Lafferty trio did some good things, too. At times, I thought both players were victim of trying to do too much out there, which is totally understandable. Players want to make an impression right off the hopper. Unfortunately, it doesn't normally work out that way. Furthermore, in true first game jitter fashion, both players took a minor penalty in the game. Big picture, I like what these two will bring to the table. Happy the first game is out of the way.
HIGHLIGHT OF THE NIGHT:
 WHAT'S NEXT?
No rest for the Leafs. They'll be back in action on Thursday night for game three of five on their road trip when they visit the Calgary Flames. Toronto took the opener of the two-game season set with the Flames, 5-4 in OT, back on December 10th at Scotiabank Arena.