On Rodion Amirov's passing, the Martin Jones signing, and Toronto's chances of capturing the Atlantic Division crown: Leafs Morning Take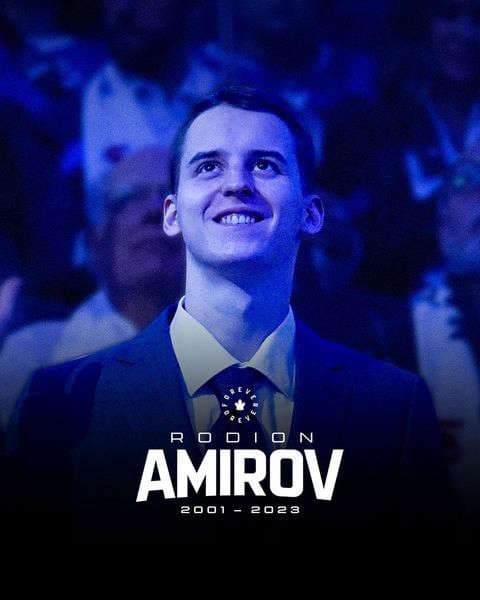 Unbelievably, we're now just 51 days away from the start of the 2023-24 Toronto Maple Leafs regular season.
Honestly, where has the time gone?
I mean, it's bittersweet. I love summer, but I love watching hockey just as much —if not more.
After a two-week hiatus, Jay Rosehill and I got together to dissect the very latest news and notes surrounding the Leafs. Sadly, we started on a very sobering note discussing the passing of Toronto's 2020 first rounder Rodion Amirov. The 21-year-old, who was diagnosed with a brain tumour last year, passed away on August 14th in Munich. Simply put, there are no words. Our condolences to his friends, family, and teammates during this very difficult time.
Personally, it was important to start with this topic. Not only does it really put life into perspective, but it also reinforces the fact that hockey is just a game. While we all have a tendency of getting carried away with our analysis at times, this is a sobering reminder how precious life truly is. Rest in peace, Rodion.
It's tough to follow a segment like that, but we tried our best. Next up, we broke down the Martin Jones signing. In case you missed it, the Leafs inked the 33-year-old goalie to a one-year deal worth $875K. In essence, he'll provide a bit of insurance for Ilya Samsonov and Joseph Woll, assuming he can make it through waivers to start the season. I'm still skeptical about that. Aaron Dell PTSD for sure.
Meantime, surprise, surprise, Auston Matthews and William Nylander are still unsigned. We talked about what could be next for those two polarizing situations. Also, courtesy of our friends over Betano, we handicapped Toronto's chances of winning the Atlantic Division this season.