PK Subban might find his best price as an in season free agent option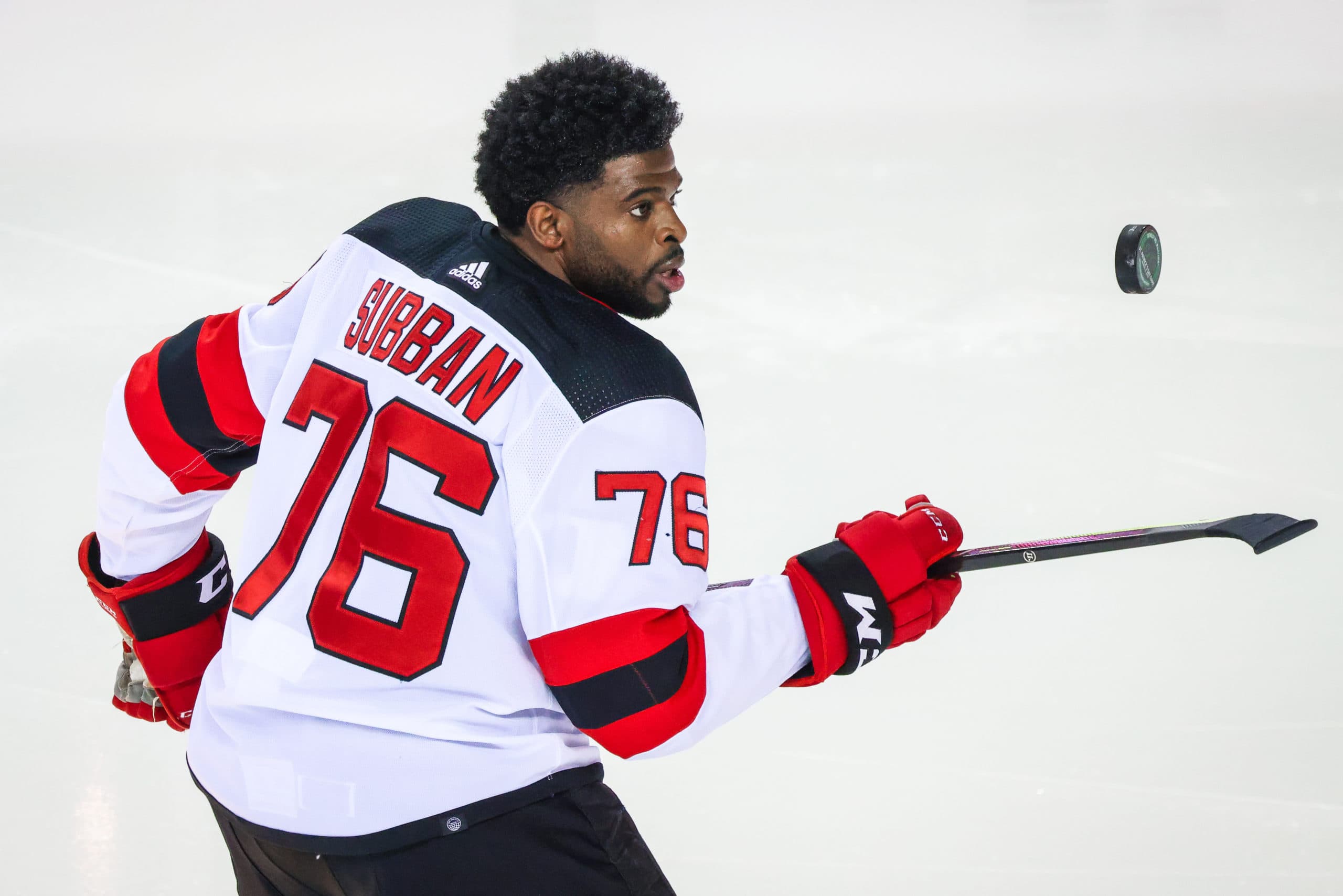 Photo credit:Sergei Belski-USA TODAY Sports
Let me start by saying this isn't making a case for Subban coming to the Leafs. In fact other than this initial preamble I'm not sure there will be a ton a Leafs content in this article, we'll have to see where this journey takes us.
From a Leafs perspective, Toronto is already set with seven NHL defensemen once Rasmus Sandin is signed, and Jordie Benn and Victor Mete seem to be very capable depth options to put on the Marlies. Making room for Subban would likely mean not only moving Justin Holl, but one other defenseman to have a spot for PK in the lineup. I'm not sure the Leafs wanted to do that.
Throw in the fact that Mark Giordano a two year $800k AAV deal that seems to set a ballpark for what the Leafs are willing to spend on veteran defense wanting to come back to play in their hometown. While I'm sure most people would easily put 2021-22 Giordano over Subban, it's still a very reasonable thing for Subban to not be ready to take a sub $1M deal. He still has talents that can be marketed well above that range and he is likely trying to get his price.
That's why I'm not expecting to see Subban in Leafs blue this season. It's still PTO time and there are plenty of ways I can be wrong on this, but I think Subban is playing a bit of a waiting game to find the right fit and contract for himself and doesn't necessarily see the start of training camp as the day he needs a deal done.
While not the most exciting group of names, there are still significant names besides PK Subban left available and without PTO commitments. Sonny Milano being available hasn't gone unnoticed by fans of pretty much every team around the league. Victor Rask being unsigned is significant as well. Even if he never lived up to expectations he is a solid player capable of holding a middle six NHL job. Tyler Motte (just signed by Ottawa) is another player that adds enough value that it seems strange that there hasn't been a team looking to bring him in.
The similarities of these players are that they've definitely shown to be players worth making more than $1M on their next contract, and have played well enough last season that they feel they don't need to earn their next deal on a training camp PTO (I would have thought that Zach Aston-Reese would be in that group too, but I guess the Leafs wore him down.)
It looks like good players will potentially be available as free agents in season, and this could be a growing trend for the NHL and perhaps a positive one. Right now these players are very much restricted by the teams trying to get to cap compliance and the interest in throwing decent money at players who would be playing in the middle of the lineup on the lower tier of teams in the league or the bottom of the lineup on the best teams in the league seems silly. One-third of the league has to get their roster under the salary cap either via trades, waivers, or LTIR relief, and once that happens and the picture becomes a little clearer on who can still add, these players will have a limited market to sell to. Not as ideal as getting signed when free agency opens, but perhaps better than sneaking in under the cap ceiling.
A player like Subban who still has powerplay value (not a particular need for the Leafs), a physical edge (definitely something the Leafs could be interested in), and a coveted right shot in the body of a player who can still play 18-22 minutes a night depending on how concerned you are about defensive play is going to get some attention, and if Subban isn't ready to take run out the clock deals in Toronto for $800k a year, he stands a good chance of finding one. All it takes is one significant training camp injury around the league, and suddenly Subban could be a fit the moment the LTIR move is processed.
While I will go back to what I said and about this not being about making a case for Subban on the Leafs, he is still a name to watch. Last season was closed out with some very real concerns about the health of Jake Muzzin and if training camp justifies those health concerns then PK becomes a name to consider again. And while it seems that Patrick Marleau and Joe Thornton should have taught me a lesson about fast declining players that I'm nostalgic for, I still want to see Subban in the blue and white for at least one season before he retires.