Resting Leafs, the importance of home ice, and what's up with Sam Lafferty: Leaflets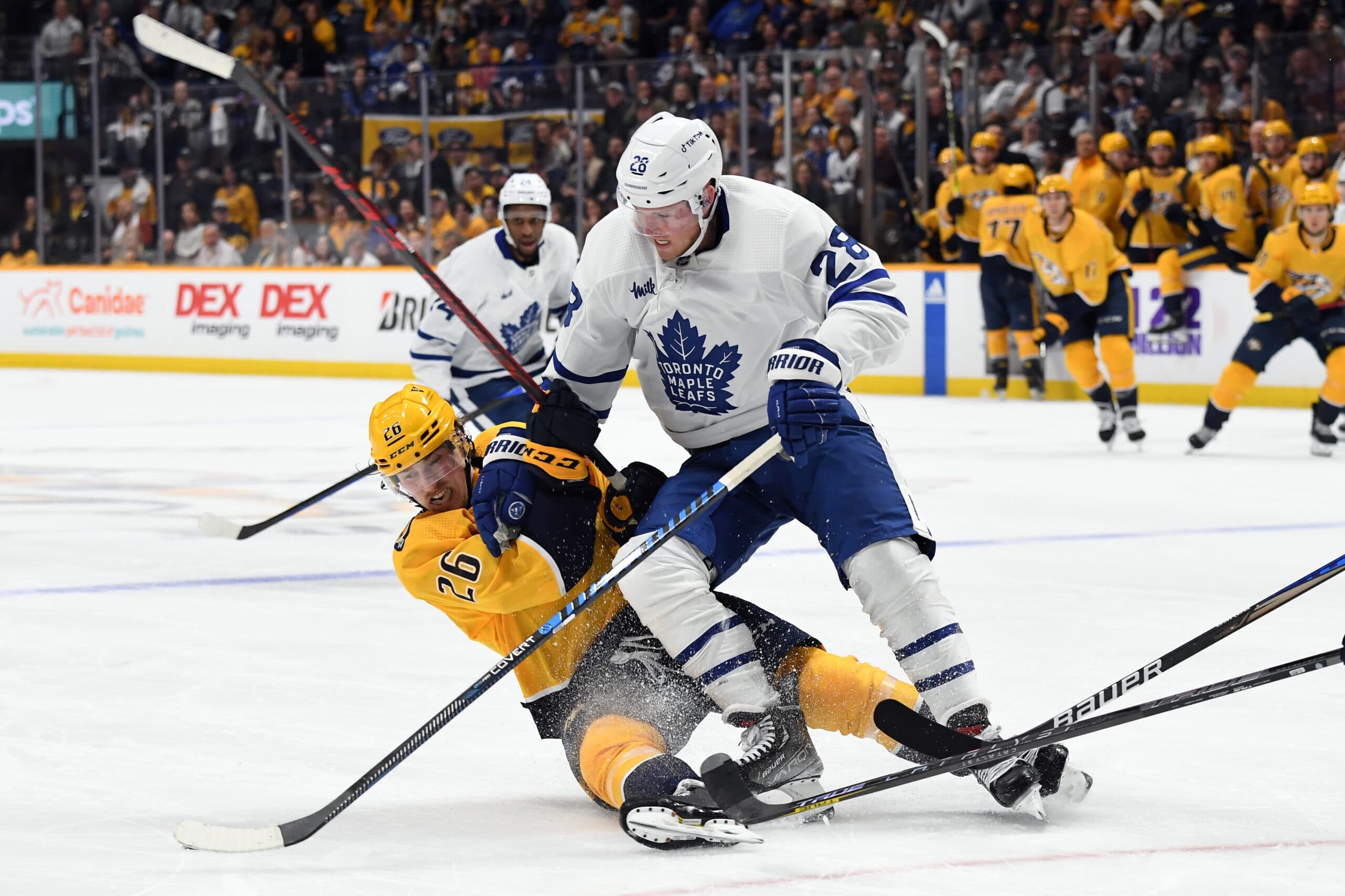 Photo credit:Christopher Hanewinckel-USA TODAY Sports
Today marks my first Leaflets in several years as a contributor to The Leafs Nation rather than as the Managing Editor. The change probably doesn't mean much to any of you reading this, but the move should allow for a future opportunity for someone new to come in and run this site with a level of commitment I never could as someone working a full time job in addition to managing this site. I want to thank a lot of people at The Nation Network like Jay Downton, David Quadrelli, Baggedmilk, Cam Lewis, and so many others who were huge supports to me in my time in the role, but I especially what to thank the writers of TLN for all their hard work over the past three years. I had the joy of stepping into the role right as the pandemic paused hockey and coming out of that I was given the opportunity to build my dream team at TLN and we've been going strong ever since. Now the site is ready to take another leap forward and the 2023-24 season will be an exciting one for not on the Leafs, but TheLeafsNation.com
All that preamble out of the way, here are my weekly stray thoughts regarding the Leafs…
Rest
The Leafs have a back-to-back this weekend, but in addition to that, over the remaining 13 days in the schedule, the Leafs only have 5 days off. That's a very loaded schedule and there are only so many loads that can be managed in that time. Of course, not everyone wants load management either and that helps, but things like Gustafsson's absence, Acciari's injury, and the uncertainty of Bobby McMann's status all cut into the Leafs' ability to find a couple of off nights for players who can use it.
As much as the Leafs want to roll their new defensive pairing, and they should, there probably needs to be an effort to give one pairing a night off every game. Timmins-Liljegren (in Gustafsson's absence) can be a suitable bottom pairing combination, even if that means Timmins playing on his wrong side, and getting some rest for players that could certainly use it.
Right now Zohorna and Simmonds are largely going to be used out of necessity due to injury, but it would be nice to see the Leafs transition toward giving some stars the night off as well. Tavares could use a night or two, a night for Matthews wouldn't hurt either, and I'm sure Marner once he hits 100 points, or Nylander if he hits 40 goals could also be open to a brief break for rest purposes.
Even if Toronto doesn't get the opportunity to do it at the star level, players like Bunting, Lafferty, and Kampf who tend to take a lot of physical punishment on the ice could likely use a night toward the end of the year.
With O'Reilly and Gustafsson's returns, and the arrival of Matthew Knies around the 3 game remaining mark, the quality of players in the lineup rotation is also about to improve and Toronto isn't jeopardizing their chance to win.
Hopefully, we also don't see any unnecessary nights with players going well above the 20 minutes of ice time mark.
Home Ice
The Leafs have a four point lead over the Lightning with two fewer games played. All signs are pointing to the Leafs having the extra game advantage in round one but it isn't a lock yet. It can be pretty close to a lock after this weekend if the Leafs manage to beat both the Senators and the Wings, and the Lightning lose to the Islanders. The Leafs now need a combination of four wins or Lightning regulation losses to lock in the advantage. So a perfect weekend would get them within one of that home ice lock and would let Toronto explore some of the rest/load management options at their disposal.
Last year in round one the Leafs were 2-2 at home, before that they were 1-3 against the Canadiens, 1-2 against the Blue Jackets, and you'd have to go back to 2018 against the Bruins to see the Leafs have a 2-1 favourable winning record at home during the playoffs. Of course, when you are losing in the first round losing at home is going to be a part of that, and is part of what the Leafs should actively be trying to change. I'd just say that it's not worth putting too much emphasis on.
Sam Lafferty
There was a lot of hype around Sam Lafferty heading into the trade deadline and it was pretty hilarious. Lafferty was a player who was certainly making the most of an elevated role on a bad team and had 10 goals, and 21 points in 51 games for the Blackhawks while having pretty rough underlying numbers, which largely go along with playing an elevated role on the Blackhawks.
With the Leafs, in his first 14 games, Lafferty has picked up just 3 points. His ice time is down over two minutes per game and he is no longer hitting at the same volume he was before. He has played with a lot of effort and is certainly trying out there, and has the speed to still be impactful, but the results aren't coming the way they have for Noel Acciari.
The question with Lafferty is how do the Leafs get what they need out of him this year. As a discount fourth line center option for next season, they'll have a chance to find his value there, but for this year they need to see whether Lafferty is someone who can bring energy to the Tavares-Nylander line as a winger who has shown he can do more when given more talented linemates or is best to push Lafferty down the lineup and have him compete for his role with other fourth liners.
I get the sense that the Leafs believe in Lafferty and there does seem to be talent beyond what he has produced. It's just a matter of if Toronto can get what they need out of Lafferty in the short term or whether its best to start shifting thinking back toward players like Pontus Holmberg.