Rogers Arena continues to be a house of horrors for the Toronto Maple Leafs: Muzzy's Muzings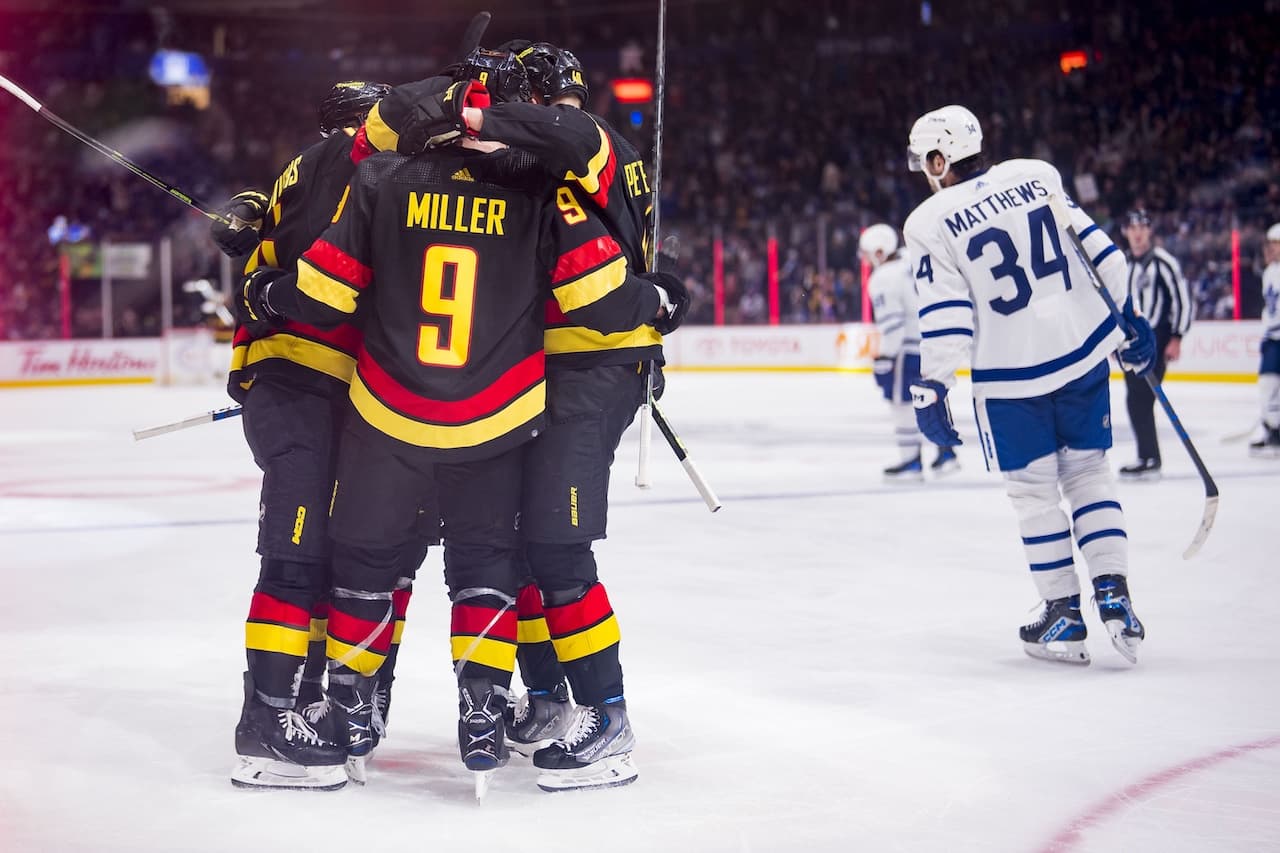 Photo credit:Bob Frid-USA TODAY Sports
The Vancouver Canucks have now won six in a row and 16 of the past 18 meetings overall with the Toronto Maple Leafs at Rogers Arena.
If you can believe it, it was Toronto's vaunted power play that ultimately did them in on Saturday night.
Elias Pettersson and J.T. Miller scored shorthanded goals 44 seconds apart in the third period as the Canucks smothered the Leafs 4-1 in Luke Schenn's return.
Adding insult to injury, Ryan O'Reilly took a shot off his hand late in the second period and did not return. In general, it was a tough night for friendly fire. In the first, Auston Matthews took a clapper off the inside of his knee and wound up missing numerous shifts. Thankfully though, he did return in the second period.
Meantime, making his first start in 46 days, Matt Murray turned aside 20 shots. At the other end, Thatcher Demko was fantastic. The 27-year-old, who also recently returned from injury, made 36 stops on route to grabbing No. 1 star honours on the night.
John Tavares had the lone goal for Toronto. They fell to 2-2-0 on their five game road trip.
The Leafs and Canucks split their two game season series.
MUZZY'S MUZINGS:
SPIRITED START
From puck drop, even though the Canucks have been long gone in the standings for a while, the game had a playoff feel to it. Seriously, that first period slapped. That was awesome. It's like a post-deadline switch was flipped and both sides came to play. Unsurprisingly, Luke Schenn, who was making his return to Vancouver, set the tone for the entire night with a monstrous hit right off the bat. He dragged the entire team into the fight, and quite frankly, you love to see that. Also, I loved Jake McCabe jumping in to scrap Tyler Myers after he lowered the boom on John Tavares. That's what standing up for your teammates is all about. Additionally, I would love to know what he did to gain the extra 10 PIMs, but I digress. In general, I was quite impressed with Vancouver all night long. There's no question about it, Rick Tocchet had that team fired up and ready to play.
O'REILLY INJURED
Anytime you lose, it stinks. But for me, the bigger story from this game was losing Ryan O'Reilly. Hopefully, there's no fracture or anything, but the fact that he couldn't return may have been a tell-tale sign as to what his status could be moving forward. Let's hope it was just precautionary and we see No. 90 back out there on Tuesday night in Newark. If O'Reilly's forced to miss some time, fortunately, there's still plenty of time remaining in the regular season for the former Blues captain to heel in time for Game 1 against Tampa in mid-April. In general, it's just been that kind of year for O'Reilly. He just recently returned from a broken foot. Oh well. Fingers crossed.
THUMBS UP FOR MURRAY
Considering how much time he missed, I thought Murray looked very solid, especially in the second period when the Canucks poured it on a bit. He looked quiet in there. Personally, I sort of felt for him in the third period when the Leafs just completely broke down on that power play. Like, what the hell was that? Two shorthanded breakaways in less than a minute? Yeah, you can't blame him for either one of those. Most importantly, it's good to see him back in the mix and healthy. It goes without saying but he'll be needed down the stretch and into the postseason. That's a given.
WONKY PP
Last time I checked, at the very least, your power play should act as a momentum booster. Suffice it is to say, it's been nothing to write home about over the past little while. If you're keeping score at home, the Leafs have now surrendered three shorthanded goals in the past two outings. Again, the primary concern coming out of this game is Ryan O'Reilly and his status, but undeniably, it's important for them to figure out this whole power play thing again sooner rather than later. It's been a buzz kill lately. The Leafs were right in the game; they were right here with them. Also, they also just stink in that arena for some reason. As mentioned, it's been a trend for quite some time now.
HIGHLIGHT OF THE NIGHT:
WHAT'S NEXT?
The Leafs will finish off their five game road trip on Tuesday night when they visit the Devils for the rubber match of their three game season series. Toronto's picked up three out of a possible four points against New Jersey so far.