Some other positive takeaways from the Leafs and Lightning game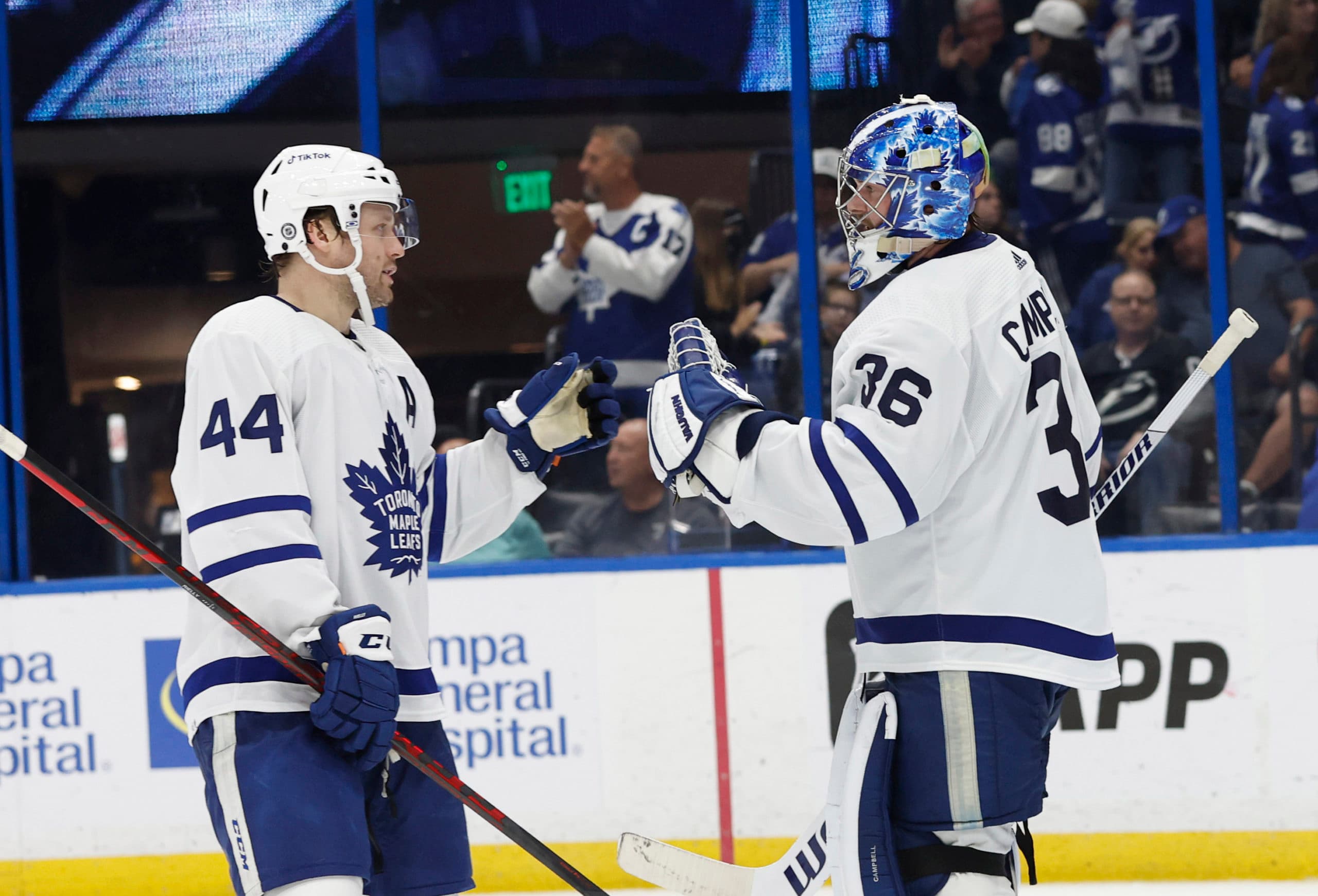 Photo credit:Kim Klement-USA TODAY Sports
Who knew when we'd be discussing the Florida road trip that we'd get to such an optimistic outlook so soon? I mean, to some extent we're awfully hard on this Leafs team despite having the 4th best record in the league. We want to prepare for the worst, and ignore the fact that this team very much can hang with the Panthers, Bruins, and Lightning like we've seen in the past couple of weeks.
While it was great to see Auston Matthews tie a Leafs record, and pot another hat trick, it just scratches the surface of what we should be happy about from Monday night's game. Here's a breakdown of things that should have Leafs fans feeling good on Tuesday morning.
#1. Jack Campbell is living up to what the Leafs need him to be
Holding the Lightning to two goals is actually a pretty stellar night, and I don't want to undersell the 32 save performance that included a couple of highlight-reel moves, but the main takeaway is that between Saturday night and Monday night, Jack Campbell is no longer a barrier to success like he was before missing time from his injury. If Campbell can be a consistent  .900+ save percentage goaltender the Leafs will have a great April and be in a great position to do some damage in the playoffs.
That being said, the question still lingers, how much should Campbell be playing in April. Toronto has 13 games left, and he's already been promised the night off on Tuesday. That leaves 12 games with two back-to-backs in there. It also seems likely that Campbell will take one of the last couple of games off, so that leaves him with a 9/3 split with Kallgren. I'd argue the Leafs need to find their way to a potential 7/5 split to keep him busy enough, but not out of practice.
#2. The Leafs can win missing one of their big four
This isn't anything particularly new, but going up against a loaded Lightning team, not looking like they missed a beat with William Nylander out is huge. Knowing that Muzzin and Sandin also will be available in the postseason if these two teams matchup is also comforting that Toronto can overload their lineup against Tampa.
Of course, Tampa was also missing a key player with Ryan McDonaugh being out, but Toronto has taken some great steps in closing the talent gap between themselves and Tampa, as seen Monday night.
#3. Andrei Vasilevskiy can have bad nights too
It doesn't happen often, but 2 of Vasilevskiy's last three games have seen him put up sub .900 results. He even had a four game stretch with sub .900 save percentage games. Toronto had a night where Vasilevskiy was quite beatable for them is going to help. The fact that the Leafs have had big nights against Boston and Florida as well is certainly leading to some increased confidence.
#4. Mitch Marner seems to like hitting now
Marner had four hits. Colin Blackwell led Toronto with 6 hits. The Leafs as a team nearly put up 40 hits. I get that the Lightning had the puck more on Monday, but the Leafs played like they wanted to get the puck back. The fact that players like Rielly and Marner are already playing with a "do what it takes" attitude, that sets Toronto up nicely for the playoffs.
#5. Marner also quietly has another 3 point night
Okay, maybe not quietly, people are definitely noticing how much he has been producing, but that doesn't change that he has the 5th highest points per game in the league, and he's jumped into the top 10 of the scoring race. It's also interesting that Michael Bunting's goal drought hasn't kept him off the scoresheet, and his two point night has increased his lead to 3 in the rookie scoring race. It's hard not to love everything that's going on with the top line.
There's no shortage of other things to feel great about tonight. The Leafs' defense held their own against some tough competition. Pierre Engvall continues to provide some tertiary scoring. It was certainly a win the Leafs should feel proud of, and one that will inspire some confidence, at least in the short term.
POINTSBET IS LIVE IN ONTARIO
PointsBet Canada has officially launched in Ontario! Get a $25 free bet just for 
signing up right here!