The Leafs week ahead: Tough Florida trip, Muzzin returning, and a chance to clinch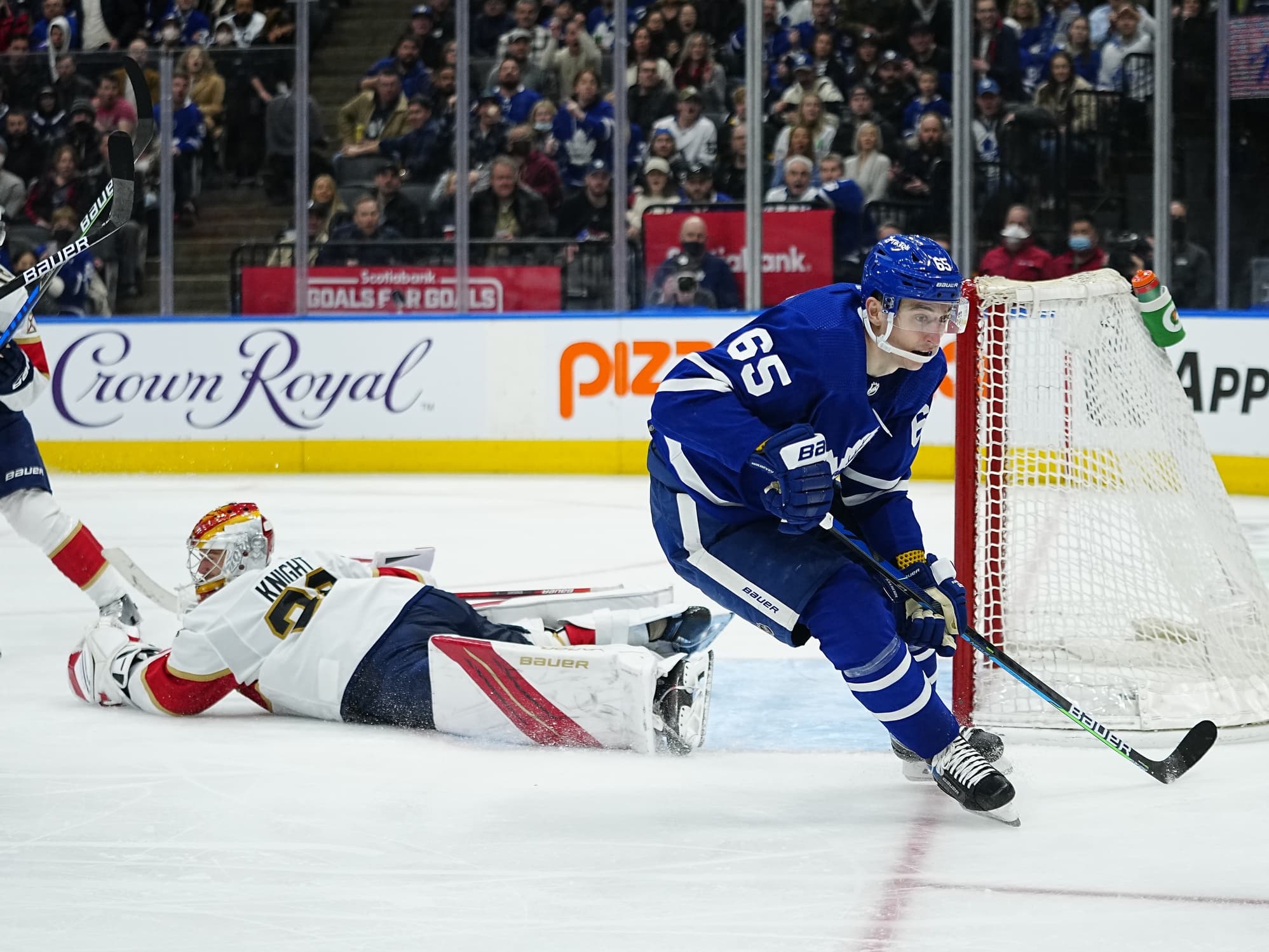 Photo credit:John E. Sokolowski-USA TODAY Sports
It seems like another big week for Toronto, and until they get that "x" next to their name on the standings page, I guess they'll all be big weeks. Still, this one seems like the most significant part of the schedule remaining, so let's dive into why.
The toughest possible back to back
Starting off the week in Tampa Bay is already a tough start. Putting a game against Florida right after is about the toughest back-to-back imaginable for the Leafs, and yes, another significant test of their playoff readiness. While a lot can change in the next month, it seems most likely that the Leafs and Lightning will face each other in the first round, and with the Leafs not having seen a lot of Tampa of late, this is a great chance to familiarize them.
It seems like a fortunate turn of events that Florida is the second part of the back-to-back as the Panthers having recently clinched their playoff birth are a bit more likely to take their foot off the gas against the Maple Leafs. It will be interesting to see what these teams are willing to show each other, and perhaps the best call for the Leafs is to start Campbell against Tampa Bay so if they need to call upon Kallgren in the playoffs against the Lightning, he'll be a bit more of an unknown to them.
Jake Muzzin is likely to play this week
So considering the road trip consists of Tampa, Florida, and Dallas, we'll be seeing Muzzin in the Leafs' lineup no later than Thursday. This is good news, especially now that the roster situation doesn't require gymnastics to bring him back in and Toronto can retain some level of flexibility down the stretch.
Of late, it's hard to make a case for taking Lilejgren out of the lineup, especially since he's connected quite well with Mark Giordano. Lyubushkin has been an adequate partner for Rielly, and while he's still been a solid player of late, the odd man out could be Justin Holl. In reality, we'll probably see a lot of rotating scratches for Lyubushkin, Holl, and Liljegren down the stretch, and it also seems like Keefe is going to have a number of options for his playoff defensive pairings. Not a bad situation to be in, and we haven't even considered that at some point Rasmus Sandin may return. All of this seems a far cry from finishing a game with four defensemen and calling up Mac Hollowell.
Matthews history watch
Sitting at 51 goals on the season, it seems inevitable that Matthews will eventually have the single-season goal-scoring record for the Leafs, as he's presently sitting fourth on the list behind Dave Andreychuk's 53, and Rick Vaive's 52 and 54 goal seasons. With four games this week, Matthews' pace this season says he'll tie the record against Montreal at home on Saturday night. If you look at his pace over the last 44 games instead, he could be breaking the record on Saturday instead. Or heck, maybe he gets a hat trick tonight and we can adjust the Matthews watch to waiting for him to hit 60.
In the dog days of the season, it's nice having the Matthews rocket race and goal-scoring record chase to pass the time.
Clinching a playoff spot?
The Leafs need some combination of four wins or Islanders losses in order to clinch a playoff spot this week. Toronto doesn't have the easiest week as they face both of the Florida teams, a Dallas team that doesn't want to give up on the playoff chase, and a Montreal team that has their number. Still, a couple of wins from a good team doesn't seem like too much to ask, right?
If that does seem like too much to ask the Islanders might be able to help. They also have a game against the Stars and have some tough games against the Hurricanes and the Blues.
Clinching early would be nice, but the Leafs may want to battle for a better home ice advantage by going for the second spot in the division. So there's something still on the line. It also seems unlikely they'll choose to coast in hopes of falling into the wild card spot in the Metropolitan division, so maybe we discard that idea now.
Matthew Knies watch
Thursday marks the next game for Minnesota in the Frozen Four NCAA tournament. A loss marks the end of Knies' college season and opens the potential for him to be signed by the Leafs. All signs seem to point to this happening whether it's a good idea or not. If Minnesota wins, they'll be in the final, and the tournament concludes on Saturday night, so no matter what by Sunday there is a chance that Knies is on a plane to Toronto and we find out if he can be the big-bodied saviour of the Leafs' undersized forward group.
The usage of Knies in the Leafs' lineup will probably mirror what we've seen from Abruzzese. He's likely to get a taste of the fourth line and could be a scratch the majority of the time. The advantage that both Abruzzese and Knies enjoy is that they didn't cost the Leafs a recall from the Marlies in order to get them into the lineup and that certainly makes it easier to give them a first look.
While Abruzzese playing for the Leafs burned a year of his contract, that won't be the same for Knies, who is still subject to the entry-level contract slide. The Leafs would have to use Knies in 10 games this year to burn a year of his contract, and with only 11 games being left in the year after the earliest point Knies' college season can end, it's unlikely they'll burn a contract year.
Additionally, it will be interesting to see what happens with Knies' Minnesota linemate, Ben Meyers. He's an Olympian as well, and while the highly coveted free agent might be looking for situations with teams like Philadelphia or Detroit that can offer him more minutes and a spot higher up in their depth chart and with a team more likely to offer a signing bonus, it's still worth keeping an eye on what the Leafs do in the Meyers sweepstakes.
What else to watch for this week?
How often do we see Jason Spezza in the Leafs' lineup? Spezza has been slumping of late and the plan always was to find him so rest down the stretch. Still, Spezza is sitting just nine points away from 1000 and there's probably some hunger to move a bit closer to that mark. Losing his 4C spot to Blackwell makes a ton of sense, but Spezza has been best as a Leaf when he's been on the wing.
Speaking of how much do they play, how much do we see of Kallgren this week? Presumably, he gets one of the back-to-backs, but do we also see him get the game against Montreal to manage Campbell's workload coming back from his injury.
Will Abruzzese continue to play with the Leafs or is he Marlies bound? Abruzzese looked solid in his NHL debut, but he still needs to make a case for sticking around. The Leafs should at the very least prioritize keeping him around over Kyle Clifford, who is far more of a known commodity.
POINTSBET IS LIVE IN ONTARIO
PointsBet Canada has officially launched in Ontario! Get a $25 free bet just for 
signing up right here!